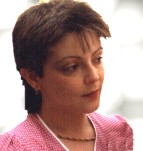 E-Mails (From the 12/08/2000 till 31/08/2000)
Goto E-mail from 01/09/2000
---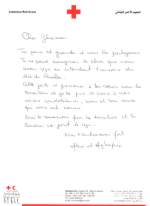 La Crois Rouge Libanaise Beyrouth Aout 2000
(M. et Mme Alex et Aghapie Anghelopoulos)
Lebanese Red Cross Beirut August 2000
---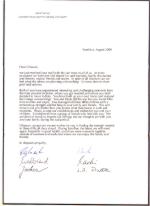 DLG.: Deutsche Landwirtschafts-Gesellschaft Frankfurt, August 2000
Signed by: Egbert Conze, Waltraud Mayer, Jochen Koeckler, Ulrich Haufmanns, L.Karl-Martin Lueth and Annette Reichhold
---
From: "Samim Chalabi Çelebi" 31/08/2000 20.58
Subject: remembrance
To: "Ghassan Sayegh" <sayegh@farmer.it>
Dear ghassan rana and rayya
I am sorry not to have known but would like u to say that we would remember
paola very dearly
sincerely
samim


---
From: "Massimo Cremaschini" 31/08/2000 17.27
Subject:
To: Ghassan Sayegh <sayegh@farmer.it>
Ciao Gas ,
ho ricevuto la tua mail che mi ha ricordato quanto gi` avevo tristemente
appreso .
Approfitto di questo tuo messaggio per contattarti , infatti , prima d'
ora mi dibattevo tra il desiderio di rispettare l' intimit` del tuo
dolore e la voglia di chiamarti e dirti quale profondo dispiacere mi ha
colpito , quando ho saputo che , tutto il tuo lottare per tenerti
stratta una persona cara , sia stato vano .
Nella speranza di non avere disturbato troppo la tua sfera personale ti
invio un sincero saluto .
Massimo
---
From: Piero Gaidano 31/08/2000 11.30
Carissimo Gas, ho ricevuto oggi una e-mail che non avrei mai voluto leggere. Non conoscevo tua moglie di persona, ma dalle tue parole avevo avuto l'impressione che fosse una donna "speciale". Sicuramente lo era per te. Ora sei solo, con le tue figliole.Fatevi coraggio; sicuramente c'è un piano a noi sconosciuto dove hanno senso anche queste cose per noi incomprensibili. Mi spiace che tutte le battaglie combattute da te e Paola non abbiano sortito gli effetti sperati. Sappi comunque che io e Chicca vi siamo estremamente vicini e siamo a vostra completa disposizione per qualunque esigenza possiate avere. Non ti telefonerò, non voglio disturbarti, ma uso questo impersonalissimo mezzo moderno per dirti, con tutto il cuore che ti sono vicino. Quando avrai modo, tempo, voglia e se ti potrà fare piacere fatti vivo. Ciao Piero
---
From: "Chami, Théo (MED)"<Theo.Chami@med.ge.com> 31/08/2000 11.13
Ghassan
It is with deep regret and sorrow that I acknowledged today the death of Paola.
I send my heartfelt regrets to you, Rayya and Ranah.
Sincerely,
Theo CHAMI
---
From: Daniel koning 31/08/2000 9.21
Dear Ghassan,
I tried to reach you on your mobile last week, but then had to learn that you
were in Canada. My sincere condolations, my friend, to you and your whole
family! When Mary send me the message last week I was shocked in the first
place, as I was still under the impression that everything was moving forwards
and not backwards. Taking the step into the next life is hard for all those that
stay behind and were close to Paola. Whoever decides where someone has to live,
(........ Private Part).
Daniel
---
From: Suhail Srour <Suhail.Srour@darbeirut.com> 31/08/2000 8.05
Dear Ghassan,
I am very sorry to hear the bad news. Please accept my deep condolences. The relief is she has rested from her pain.
Suhail
---
From : "Yami Arvelo" <yami.arvelo@gte.net> 31/08/2000 4.18
Ghassan,
I am really sorry about your lost. Believe me, this must be hurting you and
your family so much. I am sorry, I am with you!
All my love to you and yours...
Yami
---
From: Nassif Burkhuch <nburkhuch@goldenvalleyseed.com> 31/08/2000 3.47
Subject: Condolences
To: Ghassan Sayegh <"sayghassan"@usa.net>, sayegh@farmer.it
Dear Ghassan,
I am very sorry for your your loss.
I heard the sad news from Michel Toubia, my deepest and warmest condolences for the loss of your lovely wife, may she rest in peace. Unfortunately I never had
the chance to meet Paula. I viewed your pictures, and she looked to be a wonderful and loving person, I heard about her pain and suffering, and how she
courageously fought the battle, I do feel with you very much, my Mom had to fight cancer for a very long time. The most important is that you were together all the
way, and that's what count, your love is shared in sickness or health.
I pray for you, for your children, and for the whole family, may God keep you all well, and keep her loving memory in your hearts for ever.
Please accept my most deep and sincere condolences to you, and your lovely Daughters, may her memories live for ever.
Sincerely
Nassif Y. Burkhuch

---
From: "Tony Sayegh" <ansayegh@cyberia.net.lb> 30/08/2000 mer 22.21
Subject: OUR SINCERE CONDOLENCES
To: <sayegh@farmer.it>
Dear Ghassan,
We have just learnt the shocking news of Paola's death and though we never
met her, yet we are deeply sorry for your loss and for her daughters and
family, who loved her and cared for her and mainly for her at such a young
age. We pray for God to accept her in His kingdom and give her eternal
peace. May God give you all courage and strength to bear such a great loss
and God bless you all.
Our deep sympathy.
Antoine & Nibal
---
From: "Bekdash, Faysal" <FAYSAL.BEKDASH@saic.com> 30/08/2000 22.02
Ghassan
I wish I still did not know. I feel your grief and your family grief. Amal and I feel so sad. Paola was indeed a very special gracious human being. It is amazing that as I got your email I was just telling a colleague at work that life is a big joke played on us, the good, the bad, the ugly, the rich, the poor, the genius, the dumb, the achiever and the loser all ultimately die. One thing I find interesting about this life I read in a poem by I think a Serbian poet. He says:
Birthing is hard
Dying is mean
So get yourself a little loving in between.
Your love to your family Poala's love to you and to your kids and your friends love to you to her and to your family will remain forever. Ghassan, if you need any thing please do not hesitate to email or call.
Kisses and hugs to you to Rayya, Ranah, Poala's mom and her sisters.

~~~~~~~~~~~~~~~~~~~~~~~~~~~~~~~~~~~~~~~~~~~~
Faysal Bekdash Ph.D.

---
From: Eric Aimond <eric.aimond@wanadoo.fr> 29/08/2000 23.53

Subject: une pensée de Paris
To: ghassan <sayegh@farmer.it>
Ghassan,

Juste un petit mot, forcément maladroit, que tu pourra lire à ton retour du Canada.
Nous voulions simplement te dire que nous pensons bien à toi et à tes
filles, tout comme nous pensons très fort à Paola.
En espérant avoir bientôt de tes nouvelles, avant peut-être de te voir chez Fadi & Dany.

Eric & Isabelle.
---
From: crose 27/08/2000 11.08
Subject: Condolence
To: sayegh@farmer.it
Dear Mr. Ghassan,

Crose Company For Fairs Organization
as a whole presents you its
condolence
for your wife death .
God gives her mercy
& gives the whole family patience .

khaled A. Moniem
Mohammed El Soufy
All Employees
---
From : Zena Sarrouf DISSOUS 22/08/2000
Sujet: Toutes mes sinceres condoleances

Tres chers Ghassan et Famille,
Je suis une amie de Paola et je viens d'apprendre la triste nouvelle de son deces.
Je voudrais vous adresser toutes mes sinceres condoleances. Je suis de tout coeur avec vous dans cette terrible epreuve.
Que Dieu vous protege
Prenez bien soin de vous
Zena Sarrouf DISSOUS
---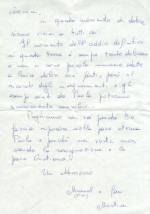 From Manuel (Stini) Martini and family
Da Manuel (Stini) Martini e famglia 22/08/2000
Premere sull'immagine per Ingrandire
quindi premere il bottone "indietro"per tornare
Press on the letter to un Enlarge
Then press the browser's "Back" to return





---
From: "FRANCOIS ZAATAR" lun 21-08-2000 22.28

Subject: FRANCOIS ET DOLEINE ZAATAR
CHER GHASSAN

C'EST AVEC GRANDE PEINE QUE J'AI RECU LA NOUVELLE DU DECES DE PAOLA ET JE
COMPREND VOTRE DOULEUR EN CE MOMENT. JE PENSE TOUT LE TEMPS AUX BEAUX
SOUVENIRS QU'ON A VECU ENSEMBLE AVANT LA GUERRE ET J'AURAI SOUHAITE QU'ON SE
RETROUVE UN JOUR TOUS REUNI AU LIBAN POUR PARTAGER CETTE JOIE, MAIS LE DESTIN
QUI NOUS EST TRACE DANS CETTE VIE NOUS CACHE PARFOIS DES SITUATIONS DURES A
SUPPORTER.
MA FAMILLE ET MOI NOUS PRIONS POUR LE REPOS DE L'AME DE PAOLA ET QUE DE
DIEU VOUS DONNE LA FORCE DE SURMONTER VOS PEINES. NOUS VOUS PRESENTONS NOS
SINCERES CONDOLEANCES AINSI QU'A VOTRE FAMILLE ET CELLE DE PAOLA

AMICALEMENT FRANCOIS
---
From: "FADEL AL HALWACHI" 20/08/00 6.59
Subject: about the big lost in your life
dear Gassan
i am very sorry about what happen to your wife ... i never seen paola but i
was feeling that she was ver known from me and that she was one of my
family . from the first time i knew about her setuation i was praying all
the time for her .. but this is the life my freind so please accept my deep
condolences .

best regards
fadel al halwachi ( Bahrain )
---
From : Nadine Ghammache 17/08/2000
Subject: I'm so sorry,
Dear Ghassan,

Denise Nassar just emailed me about Paola, and I guess Sona's phone message of two nights ago was to try to tell me that Paola had passed to the other side of life..... I was afraid when I heard Sona's message that it was about Paola. May she rest in peace; no one, and least of all her, should suffer as much as she has. I still dream of her, even after all the years that have passed, and my memories of Paola are some of the most cherished that I have. No passing of time nor the war that has created the geographical distances between us will ever erace these memories. I am so sorry for the pain that you, your daughters, and your families must feel; I am so sorry for the tremendous agony you all went through watching her battle courageously this vicous and brutal disease called cancer.

Please accept my most sincere condoleances.
My children, Kamal and Ziad, and I will do a prayer for you and for her tonight. May Paola's soul go directly to Paradise where I am sure a place is reserved for her, and may you and your daughters find the strength to endure the loss of your loved one.
We send you all our love,

Nadine Ghammache

---
From: ATalhouk@aol.com
Subject: (no subject)
To: sayghassan@usa.net, sayegh@farmer.it

Ghassan,
I heard the sad news about Paula from the AbouZeids. I am very sorry. It is
definitely hardest on you and the girls. She is in peace now and in a better
place.
My condolences to you and the family. Rabi' will want to talk to you. He
should be arriving in San Francisco in few hours. I will let him know.
Hope the future will never carry a similar pain.
YADEE ILA QALBEE.
Akram

---
Date: Wed, 16 Aug 00 02:48AM PDT
From: "Etoile d'orient.." <thepati@hotmail.com>
To: Ghassan Sayegh
Subject: I'm sorry.....
I may not find the right words to say, there may not be, but I just want you to know that I'm praying for you and for the rest of her soul, and I'm thinking a lot about you my friend ,please be strong God has a lot to give and to take, above all I think he always knows what's right for us , it is maybe so hard to have to accept it and live with it I think we can do it with faith, Please take care of yourself.
Pati
---
From: kurt@dm.net.lb 16/08/00 19.04
Subject: condolesence: Paul & Rania
To: sayegh@farmer.it
dear ghassan,
it is with great grief we heard about paula. indead she was a great person,so strong that nobody
could've noticed her pain.the few i saw her i recognised her tremendous and loving personality.rania always talked about
her beautiful memories with her at halate. on behalf of rania and myself we share your pain and we pray for her soul
rania&paul sabbagh.
---
From: "Imad Kortbaoui" 16/08/00 16.17

Subject: Condolence: Ziad & Lilian Cortbawi
Dear Cousin, Raya, Rana.

We are filled with sorrow over Paola' s demise. We only wish there were more that we could do to help heal the sorrow. Paola was a remarkable mother. Her spirit and her goodness will remain alive in the hearts of everyone who knew her. Please know that you are in our thoughts and prayers these days, and that we sympathize greatly with your loss.

Sincerely
Ziad and Liliane Cortbawi

---
From: Sales Freiha 16/08/00 7.35

Subject: CONDOLENCES
To: SAYEGH@FARMER.IT
DEAR GHASSAN,

WE ARE VERY SORRY TO HEAR ABOUT YOUR WIFE'S DEATH.

WE KNOW HOW HARD IT IS ON ALL OF YOU.

KINDLY ACCEPT OUR SINCERE CONDOLENCES.


NICOLAS FREIHA & FAMILY.
---
From: "Maroun Ghannam" 15/08/00 7.32

Subject: Condoleances et souhaits
To: sayegh@farmer.it

Cher Ghassan , je suis tres desole de la nouvelle du deces de ta chere epouse . J'espere que Dieu lui offre la paix chez lui et vous donne , avec vos enfants ,le soulagement et la force de tenir a ce triste fait . Je prie pour toi et tes enfants , et surtout pour le salut de votre femme
.

Mes respects
Maroun Ghannam
---
From: ghorayeb@colba.net (GHORAYEB WAJDI) 15/08/00 2.23

Subject: When somebody dies, a cloud turns into an angel - from GHORAYEB WAJDI
To: sayegh@farmer.it (GHASSAN & Family)

Hello! GHORAYEB WAJDI has just sent you a greeting card. You can pick up your personal message here: http://www1.bluemountain.com/cards/box6323c/snk9naixppuufd.htm Your card will be available for the next 90 days (This service is provided at no charge.)
---
From: nicolas abou chedid 15/08/00 0.06

Subject: Condéléances
To: Ghassan Sayegh
Cher Ghassan
Je te présente mes condéléances et je prie Dieu pour te donner tout le courage et la force necessaires à toi et ta famille.
Nicolas Abou -Chédid
Back (Indietro)
---
From: "Amicale des anciens scouts et guides de la Sagesse-Achrafieh" 14/08/00 21.31

"Zeina Bechaalany-Jammal", "Walid Moukarzel" ,
"Walid Chami" , "Wajdi Ghorayeb" ,
"Toufic Nehme" , "Toufic Nasr" ,
"Tamara Sahyouni" , "Soha Moussa" ,
"Shaheen Bou Maroun" , "Sami Assaf" ,
"Rony Sfeir" , "Robert Nehme" ,
"Raymond Rizk" , "Raji CHALLITA" ,
"Raja Moukarzel" , "Patrick Helou" ,
"Patricia Raphael" , "Nicolas Chabu" ,
"Nicolas Abou Chedid" , "Nakhle Asmar" ,
"NAGI KHAIRALLAH" , "Nagi Chebli" ,
"Nadine Abi Saab" , "MAROUN ZOUEIN" ,
"MAROUN GHANNAM" , "MAROUN GHALEB" ,
"Marc Asmar" , "Les scouts Du Liban" ,
"Khalil Khadig" , "Joseph Issa" ,
"Joe Kasparian" , "Jhonny Karam" ,
"Jean Clam" , "Jamil Khoury" ,
"Imad Bechara" , "HABIB GHORAYEB" ,
"Gilbert Saleh" , "Ghassan Sayegh" ,
"Ghassan Chaccour" , "Ghada Bou dagher" ,
"GEORGES EL-GHOURAYEB" , "Georges Dagher" ,
"Francois Zaatar" , "Fares Achkar" ,
"Fady Sawaya" , "Fady Malha" ,
"Elie Zouein" , "Elie Touma" ,
"ELIE MATTA" , "Elie Maalouf" ,
"ELIE DOUEIHI" , "Christophe Gebran" ,
"Charles Khoury" ,
"Charles Bou Maroun" , "Bassem H BOUSTANY" ,
"Bassam Cordahi" , "ANTOINE RIZK" ,
"Antoine El-Hajj" , "Antoine El-Hajj" ,
"Antoine Azzam" , "Albert Rizk" ,
"ALAIN RIZK" , "CHEHADE RAOUB"
Cher freres,
Nous venons de recevoir le message suivant de Hani Francis:

"Nous venons d'apprendre le décès de Paola femme de Ghassan Sayegh. Les funérailles et condoléances se feront le Mercredi 16-08-00 a 11:00 heures en Italie.

Ceux qui l'ont aimé feront célebrer à la même heure et à la même date une messe pour le repos de son âme à l'église St-Antoine de Padoue/Horch Tabet.

Ni fleurs ni couronnes. Toutes les donations seront au profit de la Croix Rouge Libanaise.

Prions pour Paola et toute sa famille.

Hani Francis

---
From: "Imad Kortbaoui" 14/08/00 20.57

Subject: Condolesence
Dear Ghassan,

It is a very sad day to everybody who knew Paola. She was a great woman loved by everyone!
Our sincere condolesence to you and your daughters, your parents.
We pray for her.
Love Samir & Georgette
Back (Indietro)

---
From: "Imad Kortbaoui" 14/08/00 20.51

Subject: Sympathy
To: Dearest Cousin,

my words will not express the sorrow I feel, about the great loss you and your beautifull daughters have to bear.

I miss you and I wish you strength to cope with your loss...
My thoughts are with you. warm kisses and hug.
love
Imad...

---
From: Annie Kolandjian 13/08/00 4.05

Subject: My dear Ghassan
To: sayegh@farmer.it

My thoughts are with you during this difficult time in you lives, I pray for our dear friend Paola, Let God be with her to ease her suffering and give you strength to take care of your beautiful daughters. I cherish the the wonderful memories with Paola and you from the days back in Beirut to the time Tamar and I visited you .

The last twenty years life kept us apart from each other, the bond that we have will live forever.

Take care Ghassan, I wish I could do more instead of saying these words.

Garbis Tamar and Avo join me to send you our deepest thoughts.

Anahid
Back (Indietro)